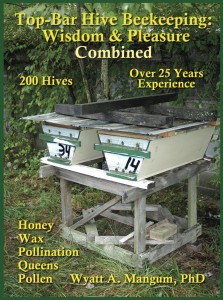 Book Description
This book contains all you need for a completely sustainable Top-Bar Hive beekeeping system. The results rest on scientific principles and careful observations from managing 200 Top-Bar Hives with over 25 years experience. This is beekeeping with Integrated Pest Management practices (IPM), the bees rarely if ever needing chemical treatments.
With 12 chapters and 421 pages, this full-sized (8 1/2″ by 11″)  book gives you 362 color and 24 infrared (B&W) photos, a rich visual learning experience. This ultimate Top-Bar Hive book is full of innovative & creative beekeeping and rock-solid fundamentals, such as:
Build TBHs hives up to 5 feet long
Build various syrup feeders, queen cages, pollen traps, and queen excluders
Build TBHs for free from scrap material and plant stalks
Install bee packages the right way
Correctly use syrup feeders
Get straight combs
Handle new combs – correctly!
Avoid comb meltdowns
Get the new colony established
Pick the correct hive site
Avoid blown-over hives
Prevent robbing
Get the new colony ready for winter
Then for the next season, this book discusses in detail with more photographs:
 Colony Management:

honey production,
swarm control,
requeening,
IPM for varroa, small hive beetle & wax moths,
selecting hygienic bee stock,
comb storage without fumigants

Honey "processing" with high sanitary standards demanded by today's consumers
Learn about creative honey packaging–all with no expensive extractor
Queen production: small or large scale (nongrafting or grafting) with all equipment for TBHs
Pollination: moving a few hives or dozens by truck and trailer
Shake package bees from TBHs
Intrigued with bee behavior?
Bee watching with top-bar observation hives
Even see 30 top-bar observation hives in one building
Video Book Tour of Top-Bar Hive Beekeeping:  Wisdom & Pleasure Combined
This book is very detailed, but that might be hard to appreciate from the lists above.
So here is a Video Book Tour showing a brief 12-minute summary of me paging thorough the book narrating some of the main points.  The video is like looking through the book with me (the author) narrating.
Book Price
From decades of beekeeping work, the book is yours for only $45.00.  (Virginia residents must be charged 5.3% sales tax, that is, $2.39 for each book.)
Buying the Book By Clicking Below, Shipping in the USA
In the USA, the books are shipped by USPS media mail for $7 for a single book with delivery confirmation.  (Delivery confirmation provides the sender with a tracking number.)  We have a small price break on the shipping for purchasing multiple books.  You can pay by credit card or debit card or use your PayPal account with the button below.  You do not need a PayPal account.  After clicking the "Buy Now"  button look to the lower right to "Don't have a PayPal account?"  Click those words and put in your credit card information.  PayPal handles the transfer of funds, and PayPal handles the security.  For orders of 5 or more books, please contact us with the e-mail form below before purchasing to get the correct shipping charge.  Thank you.
Buy the book Top-Bar Hive Beekeeping:  Wisdom & Pleasure Combined by W.A. Mangum:
Buying the Book with the Address Below, Shipping in the USA
For buying ONE book with a shipping Address in the United States, you can use the P.O. Box address below.  Please follow these directions:
You can send a check.  Or you can send a money order, but only send a United States money order, which you can buy at a US post office.  Know that other money orders could be counterfeit, and I cannot accept them.
The amount for one book is $54.39 (US dollars) (which has to include Virginia sales tax because the transaction occurs in Virginia).
Make the check or US money order out to Wyatt Mangum.
Please print your return address neatly so I can read it.  Please make sure your address is correct.  With Paypal, the post office computer would check your address, but not this way using the P.O. Box address below.  For example, I have had people give their current address, but out of habit incorrectly include an old zip code.
Please include your email address.  I will email you the tracking number that I use for the delivery confirmation as is done with Paypal.  If you do not have an email account, try using an email address of a relative or a friend for a contact.
If you want more than one book (using the payment address below), first send me an email using the contact form near the bottom of this page.  Tell me how many books you want and your shipping address.  I will work out the shipping options and the costs.
The payment address for buying One book, shipped in the USA, is
Dr. Wyatt Mangum
P. O. Box 903
Bowling Green, VA
22427
Buying the Book with International Shipping  (out of the USA)
For international shipping, we have found a faster and less expensive way for single (one) book shipments.  The shipping is by USPS Priority Flat Rate.  Note on Jan. 27, 2013, the shipping rates increased, which is beyond my control.  Shipping one book to Canada is $21.  Shipping one book to all other countries is $25.  I will send you a tracking number after I fill out all the forms.  In the Paypal set up, I picked 1-2 weeks for the delivery time, but the delivery times have been much faster than that.  My choices in Paypal were limited.  From the emails I received from buyers, the TBH book gets to the United Kingdom in about 5 days, Greece in a week, Belgium in 8 days, and New Zealand in 10 days.
Note:  International shipping with USPS Priority has worked very well.  Some of the countries we have shipped to are Australia, Austria, Brazil, Belgium, Canada, Colombia, Cyprus, Czech Republic, Denmark, France, French Polynesia, Great Britain, Gambia West Africa, Germany, Greece, Iceland, Ireland, Israel, Italy, Luxembourg, Netherlands, New Zealand, Norway, Poland, Scotland, Sweden, Switzerland, Turkey, United Kingdom.
After clicking the "Buy Now"  button below look to the lower right to "Don't have a PayPal account?"  Click those words and put in your credit card information.  PayPal handles the transfer of funds, and PayPal handles the security.
For shipping 2 books, I could not get a reduction on the international shipping.  (The US Postal Service had box sizes that were too large and expensive for just two books).  It would better just to mail the 2 books individually.  However, for mailing 3, 4, or 5 books, there is a shipping cost reduction.  For Canada, the shipping is $42 for mailing 3, 4, or 5 books.  For other countries, the shipping is $61 for mailing 3, 4, or 5 books.  The US postal service provides the box, and I can fit a maximum of 5 books in the box and still be under the weight limit of 20 pounds.  So for 5 books the shipping per book is just $12.20  For purchasing more than 5 books, the Paypal shipping calculator will not be correct, please email us first.  Thank you.